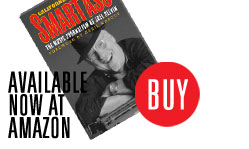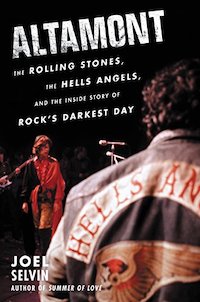 ALTAMONT: The Rolling Stones, the Hells Angels, and the Inside Story of Rock's Darkest Day
Available from Amazon
"In this breathtaking cultural history filled with exclusive, never-before-revealed details, celebrated rock journalist Joel Selvin tells the definitive story of the Rolling Stones' infamous Altamont concert in San Francisco, the disastrous historic event that marked the end of the idealistic 1960s."
---
LONG-AWAITED BERT BERNS BIOGRAPHY PUBLISHED BY COUNTERPOINT PRESS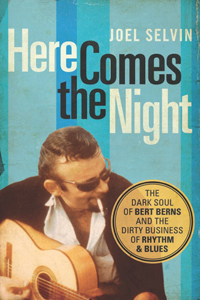 Available from Counterpoint Press
"Here Comes the Night: The Dark Soul of Bert Berns and the Dirty Business of Rhythm and Blues" is both a definitive account of the New York rhythm and blues world of the early '60s, and the harrowing, ultimately tragic story of songwriter and record producer Bert Berns, whose meteoric career was fueled by his pending doom.
His heart damaged by rheumatic fever as a youth, doctors told Berns he would not live to see twenty-one. Although his name is little remembered today, Berns worked alongside all the greats of the era – Jerry Leiber and Mike Stoller, Ahmet Ertegun and Jerry Wexler, Burt Bacharach, Phil Spector, Gerry Goffin and Carole King, anyone who was anyone in New York rhythm and blues. In seven quick years, he went from nobody to the top of the pops – producer of monumental r&b classics, songwriter of "Twist and Shout," "My Girl Sloopy" and others.
His fury to succeed led Berns to use his Mafia associations to muscle Atlantic Records out of a partnership and intimidate new talents like Neil Diamond and Van Morrison he signed to his record label, only to drop dead of a long expected fatal heart attack, just when he was seeing his grandest plans and life's ambitions frustrated and foiled.
---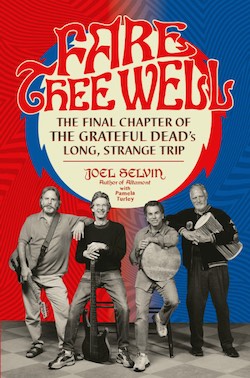 A tell-all biography of the epic in-fighting of the Grateful Dead in the years following band leader Jerry Garcia's death in 1995

Available from Hattchette Book Group
---
'Wear Your Dreams,'
by Ed Hardy with Joel Selvin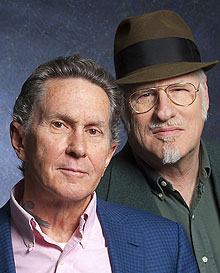 Ed Hardy & Joel Selvin
David D'Arcy
July 7, 2013

Wear Your Dreams My Life in Tattoos By Ed Hardy with Joel Selvin (Thomas Dunne/St. Martin's; 293 pages; $26.99)
Tattoos are no longer just the heraldry of sailors, prisoners, prostitutes or Japanese gangsters. They are almost as common as cell phones these days.
Read all about it @ SFChronicle.com...
---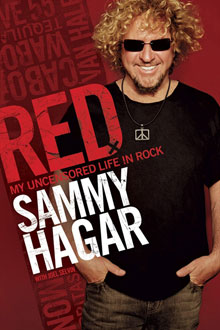 HAGAR AUTOBIOGRAPHY HITS NO. 1 ON NY TIMES BEST-SELLER LIST FIRST WEEK OUT

Sammy Hagar—legendary lead singer of Van Halen, founder of the Cabo Wabo Tequila brand, and one of rock music's most notoriously successful performers—tells his unforgettable story in this one-of-a-kind autobiography of a life at the top of the charts.

From his decade-long journey alongside Eddie Van Halen to his raucous solo career with Chickenfoot and everything in between—the drugs, groupies, and excesses of fame, the outrageous stadium tours, and the thrill of musical innovation—Hagar reveals all in this treasure trove of rock-and-roll war stories. Red is a life-changing look at one of music's biggest talents—an essential read for music fans and anyone dreaming of becoming rock's next number one star.
...Read More
---
VIDEO FROM JOEL'S "RETIREMENT" PARTY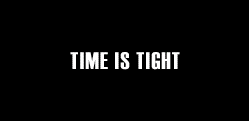 ---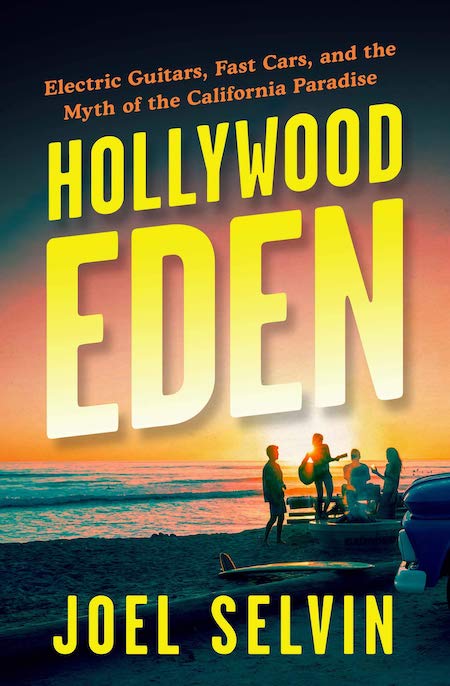 From the Beach Boys and Jan & Dean to the Byrds and the Mamas & the Papas, acclaimed music journalist Joel Selvin tells the story of a group of young artists and musicians who came together at the dawn of the 1960s to create the lasting myth of the California dream.
Read more..
HOLLYWOOD EDEN PRESS:
• NEW YORK TIMES: From Brian Wilson to Nancy Sinatra: The L.A. Music Scene in the '60s

Joel Selvin, the former pop music critic of The San Francisco Chronicle, has explored rock's history in a string of fun books, including "Monterey Pop" (written with Jim Marshall) and "Summer of Love." In his new one, "Hollywood Eden: Electric Guitars, Fast Cars, and the Myth of the California Paradise," he tells the story, set between 1957 and 1967, of a network of young Angelenos who "captured a California of the mind" — one of "cars, sun, sex and surf; 'Gidget' set to a rock 'n' roll beat."
• LA TIMES: How California's culture industry manufactured the California dream

As Selvin writes, a handful of young artists, including Jan and Dean, the Beach Boys and the Mamas and the Papas, were largely responsible for implanting the myth of Southern California in the national consciousness. "Good Vibrations" sounds like a forever future, as if a fleet of tanned aliens touched down to share their music. (In fact, it was just the genius of Brian Wilson and an army of session musicians.)

VIDEO from TIME.com:
Let Paul McCartney Introduce You To Bert Berns, The Best Songwriter You've Never Heard Of
click here
HERE COMES THE NIGHT PRESS:
• New York Times: Many-Hit Wonder, Out of Obscurity Bert Berns, Songwriter and Producer, Remembered

Even in his mid-1960s heyday, Bert Berns was barely known beyond the obsessives who studied songwriters' and producers' credits on 45 r.p.m. records and LP album jackets. And then, after his death in 1967 at the age of 38, something truly odd happened: Though the songs he wrote and produced, like "Twist and Shout" and "Hang On Sloopy," proved to have durability, growing in stature and popularity as the years passed, Berns's own reputation receded even further into obscurity..
"Ok, just finished the book on Bert Berns "Here Comes The Night" and it was great. Anyone who loves early Rock and Soul will love it."
"BANG! THE BERT BERNS STORY. Great rockumentary about a forgotten giant. Narrated by Little Steven, written by rock legend Joel Selvin, my old bandmate.
• Los Angeles Review of Books: Stephen Deusner on Here Comes the Night : The Dark Soul of Bert Berns and the Dirty Business of Rhythm & Blues

IN HIS NEW BOOK, Joel Selvin describes three different recordings of the song "Twist and Shout." Two were not simply big hits, but seminal contributions to the rock 'n' roll canon. ...
More HERE COMES THE NIGHT press here...
--- N E W S
.
F R O M
.
J O E L S E L V I N . C O M ---



Browse all of Joel's San Francisco Chronicle pieces here.

Linda Ronstadt back in public eye, and it's not so easy
Sunday, May 27, 2018

Linda Ronstadt doesn't feel like company much these days. At least, not too much company. And on a recent visit, she is definitely not going to put on clothes and makeup.
....sfgate

Jefferson Airplane's Paul Kantner dies at 74
Friday, January 29, 2016

Jefferson Airplane founder Paul Kantner, a giant of the San Francisco rock scene, died Thursday afternoon after suffering a massive heart attack in his sleep two days earlier. He was 74 and surrounded by his three children at the time of his death....sfgate

Dead offers paint-by-numbers show, but fans provides color
Sunday, June 28, 2015

No rock band in the world boasts an audience as devoted and engaged as the Grateful Dead, and it was the Deadheads who brought the party Saturday to Levi's Stadium for the first show on the five-concert "Fare Thee Well" tour featuring the four living members of the Dead back together for one last roundup.....sfgate
A night at the Fillmore changed B.B. King's career forever
Saturday, May 16, 2015
One night in San Francisco changed everything in B.B. King's life — in amazing and unpredictable ways.
B.B. King, the greatest bluesman of his generation, who died Thursday at 89 in Las Vegas, had played the Fillmore Auditorium many times before that night in February 1967. It had been operated by Charles Sullivan, a ghetto entrepreneur who ran jukeboxes and cigarette machines up and down the coast, as well as producing rhythm and blues concerts at the 1,100-seat upstairs dance hall in the middle of a black neighborhood that had thrived prior to urban redevelopment, a well-known stop on the so-called chitlin circuit....sfgate
Music: Ron Nagle's '70 album, popular flop and cult hit, returns
Wednesday, January 28, 2015
Ron Nagle, a longtime curmudgeon of the San Francisco art and music scene, was swimming upstream in 1970 with the release of an album of dark, melancholy pop songs at the height of the San Francisco hippie psychedelic era. "Bad Rice," his lone solo album, is a long-lost cult classic about to be issued on CD for the first time in a two-disc deluxe set....sfgate

On tour with Janis Joplin — an insider's view
Wednesday, October 29, 2014
John Byrne Cooke strides across Washington Square, a place familiar to him because he lived around the corner of 45 years ago when he was road manager for Big Brother and the Holding Company.
"The guys in Big Brother all wanted to know why I didn't live in the Haight," he says, "and I told them 'I'm a beatnik, not a hippie.'" ...sfgate

Emmylou Harris touring for reissue of cult classic 'Wrecking Ball'
Friday, March 28, 2014
The country music career of Emmylou Harris was already finished when she set foot in the studio in winter 1995 to make "Wrecking Ball" with producer Daniel Lanois. Country radio had stopped playing her records, and her label had no idea what to do....sfgate

Jeff Beck, Brian Wilson review: perfect harmony
Wednesday, October 23, 2013
Brian Wilson and Jeff Beck have lived their lives in parallel musical universes, but in the wide, wonderful world of rock 'n' roll, parallel lines do meet. At the Paramount Theatre in Oakland on Tuesday, in an unforgettable tableau, the exquisite British blues-rock guitarist drew out Wilson's sunny melodies in silvery, wavering guitar lines as the combined forces of his band and the Beach Boys founder's backing group stitched together the complex harmonies and orchestrations from Wilson's lost masterpiece, "Smile." ...sfgate
Rascals' show revisits era of good lovin', playin'
Tuesday, October 8, 2013
How did Little Steven find the time?
He tours the world playing guitar with Bruce Springsteen and the E Street Band. He maintains a thriving acting career launched by a long-running part in "The Sopranos." He hosts a syndicated weekly radio show and runs his own record label, among other enterprises....sfgate

Fillmore's Poster Room filled with walls of sound
Wednesday, September 25, 2013
They ran out of space on the walls of the Poster Room at the Fillmore Auditorium years ago. The most recent addition advertises a Black Keys concert from 2007. Every available inch of the wall space in the upstairs bar and restaurant as well as the adjacent balcony room is covered with framed posters from sold-out Fillmore shows of the past ...sfgate

Giving credit to Woodstock hero Alvin Lee
Friday, March 8, 2013
His frantic, flashy guitar playing on the nearly 10-minute "I'm Going Home" made British rock musician Alvin Lee, who died this week at age 68 in southern Spain, one of the heroes of Woodstock, both the music festival and the subsequent movie....sfgate

Singer Rick Stevens embraces 2nd chance
Monday, January 28, 2013
Wearing a glacial-white suit and tie, set off by a blood-orange shirt, the compact, dark-haired vocalist Rick Stevens leaned into "You're Still a Young Man," his signature song as lead vocalist of Tower of Power, when the band burst out of the East Bay funk scene 40 years ago and Stevens had a promising future. ...sfgate
Review: Johnny Cash Columbia boxed set
Monday, December 3, 2012
Johnny Cash had to disappear from the skyline before it became obvious how tall a tree he truly was.
If any doubts remain, the newly released 63-disc boxed set, "Johnny Cash - The Complete Columbia Album Collection" - takes the full measure of the man's recorded legacy. With the addition of a single disc covering his first three years of recording for the Sun Records label - and Cash's absent latter-era sessions with producer Rick Rubin notwithstanding - this unwieldy set is an American treasury along the lines of....sfgate
Browse all of Joel's San Francisco Chronicle pieces here.
Contact Joel: joelselvin@aol.com
Literary Agent: Frank Weimann: fweimann@theliterarygroup.com

SELVIN ON THE CITY PODCASTS
• FAMOUS BROTHERS
• ANDREW GOLD
• LOUIS JORDAN
• SAN FRANCISCO, 1978
• INSTRUMENTALS
• SAN FRANCISCO -1967 to 1968
• NORTON BUFFALO
• VIETNAM-THE WAR ON RECORD
• FAKE BANDS!
• THE WHO
• 50 YEARS OF THE TWIST
• ALL KEITH
• AHMET ERTEGUN
• SF GARAGE
• VAN COMES TO AMERICA
• ELVIN BISHOP
• SLIM GAILLARD STORY
• ELECTRIC SITAR
• THE TIKI ROOM
• SAL VALENTINO
• YOUNG PHIL SPECTOR
• NEW ORLEANS 78s
• ORGAN ROOM
• JOURNEY SUPERJAM
• CHARITY RECORDS
• STEVE DOUGLAS
• JACK NITZSCHE
• JERSEY BOYS
• GEORGE MARTIN
• LEE HAZLEWOOD
• DONOVAN
• T BONE BURNETT
• BIG AL ANDERSON
• TOM WAITS
• BOOKER T.
• ROLLING STONES 1971
• THE MUSIC OF FRANK ZAPPA
• THE ORIG. FLEETWOOD MAC
• SLY STONE IN NORTH BEACH
• CHRIS ISAAK AND KENNY DALE JOHNSON
• SAMMY HAGAR
• ATTACK OF THE KILLER B'S
• JERRY LEE LEWIS
• ROY BUCHANAN
• RY COODER
• STEVE MILLER
• BLAXPLOITATION
MORE SMART ASS
• BBC: Joel Selvin discusses LSD and the effect the drug has had on music, culture and society.....
• Los Angeles Times: Tattooist Ed Hardy, whose name adorns a near-ubiquitous clothing brand has signed a deal to write a memoir with the help of Joel Selvin.....
• New York Times: Julie Bosman on Sammy Hagar and other rock star's books....
• Examiner.com: Q&A with author Joel Selvin on Sammy Hagar's 'Red: My Uncensored Life in Rock' ....
• LA Weekly: San Francisco Chronicle pop music critic Joel Selvin is the last of the great rock & roll newspapermen. ....
• KGO Newstalk Radio: Joel Selvin joined Ronn Owens to take your calls and talk about his new book, Smartass: and his co-authorship of Sammy Hagar's new book Red: My Uncensored Life in Rock.....
• The California Report: Since the early 1970s, Joel Selvin has been reviewing concerts and writing about rock 'n roll...
• Sacramento Bee: Veteran rock 'n' roll writer Selvin looks back -Carla Meyer
• KQED Radio: Selvin joins Forum with Michael Krasny to talk about California musicians and Smartass
• NPR: "A 'Smart Ass' Take On San Francisco Sound" -Felix Contraras
• Crawdaddy: "David MacFadden-Elliot reviews Smart Ass"
• Michael Heaton, Cleveland Plain Dealer: "With Merle Haggard, all things are possible"
• S.F. Chronicle: "Joel Selvin On Dennis Wilson, Puck of the Beach Boys"
• Santa Cruz Sentinel: "Music journalist Joel Selvin looks back on a career chronicling California's contribution to rock history"
• The Daily Californian, Culture Shot: "Selvin at Moe's"

BOOKS
• SMART ASS:
The Music Journalism of Joel Selvin

• ED HARDY:
Wear Your Dreams: My Life in Tattoos
By ED HARDY with Joel Selvin
• HERE COMES THE NIGHT:
The Dark Soul of Bert Berns and the Dirty Business of Rhythm and Blues

PEPPERMINT TWIST:
The Mob, the Music and the Most Famous Dance Club of the 60s
By Joel Selvin with John Johnson Jr.

• THE HAIGHT:
Love, Rock, and Revolution
By Joel Selvin with photographer
JIM MARSALL

• SING TO ME:
My Story of Making Music, Finding Magic, and Searching for Who's Next
By L.A. REID with Joel Selvin
• ALTAMONT:
The Rolling Stones, the Hells Angels, and the Inside Story of Rock's Darkest Day
• FARE THEE WELL:
The Final Chapter of the Grateful Dead's Long, Strange Trip
• RUST IN PEACE:
The Inside Story of the Megadeth Masterpiece
By DAVE MUSTAINE with Joel Selvin
• HOLLYWOOD EDEN:
Electric Guitars, Fast Cars, and the Myth of the California Paradise

• RED: My Uncensored Life in Rock
By SAMMY HAGAR with Joel Selvin
• RICKY NELSON:
Idol for a Generation

MONTEREY POP
By Joel Selvin with photographer
JIM MARSALL
• SUMMER OF LOVE: The True Story of LSD, Rock & Roll, Free Love and High Times in the Wild West
• MID-LIFE CONFIDENTIAL: The Rock Bottom Remainders Tour America With Three Chords and an Attitude
• SAN FRANCISCO: The Musical History Tour
• PHOTOPASS: The Rock and Roll Photography of Randy Bachman
• SLY AND THE FAMILY STONE: The Oral History
• THE TREASURES OF THE HARD ROCK: The Official Guide To the Hard Rock Café Memorabilia Collection
... Books Page